FORD EXPLORER FUEL FED FIRE AFTER ROLLOVER ACCIDENT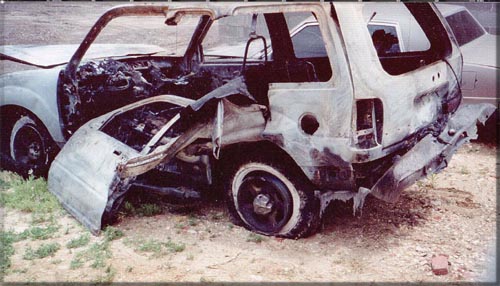 FORD EXPLORER FUEL FED FIRE

On May 31, 2003 a 2001 Ford Explorer driven by a Kansas man rolls over and catches fire trapping him inside. The vehicle apparently left the roadway and hit a culvert and went airborne and then rolled to a stop. According to the recall of a witness the Ford Explorer caught fire after the rollover and burst into flames engulfing the driver. In fact the witness recalled that after the Explorer had stopped rolling, they passed the vehicle and circled back only then noticing that it had caught fire. Rescue attempts were unsuccessful due to the blowing wind fanning the flames. The extensive fire damage to the Explorer, hampered the investigation as to the cause of the fire for the local police.

POST COLLISION / CRASH FIRES

Fuel fed fire to a vehicle after an auto accidents and rollovers are usually as a result of an electronic fuel pump that keeps pumping after the engine is off. Most vehicles have shut off switches, but this is a recent development. A frequent source of the fuel fed fire is from the gas line itself. Most vehicles still use rubber lines with only minimal braiding, but metal gas lines underneath the vehicle. The manner in which these lines are routed is also a source for disruption. Of course the fuel tank itself it also subject to puncture or bursting in a major rear-end impact, but this scenario is not the usual case in a rollover.