Ford Explorer Rollover Lawsuits & Safety Recall Information
Ford Explorer rollovers and rollover safety concerns have been in the public spotlight almost daily since 2000 when the Ford Explorer - Firestone tire tread separation roll over accident problem was revealed. Hundreds of deaths in the U.S. have been blamed on a faulty design that creates an instability in the Ford Explorers. This design problem has resulted in many drivers unable to control the vehicle in emergency situations, especially after a tire blowout or sudden deflation from a tire tread separated resulting in a rollovers.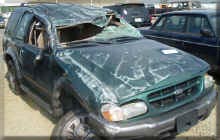 The Ford Explorer and similar models, the Mercury Mountaineer and Mazda Navajo are in a class of their own in regards to the large numbers of rollovers. The Ford Explorer was introduced the motoring public in 1991 and was marketed as a safe passenger friendly replacement to the Ford Bronco II, the former rollover king. But apparrantly Ford's engineers didn't design the rollover out of their new SUV. The Ford Explorer has been rolling over and killing it's occupants since the first months it was sold. Even today, more Ford Explorers are rolling over at alarming rates, even after the Ford Firestone recall and replacement of the Firestone tires.
Explorer rollover rates rank higher than any of it's current competitors. A recent rollover study analysis of national and Florida crash statistics, the Ford Explorer, even when fitted with tires other than Firestone, has a higher rate of tire-related accidents than other sport utility vehicles. While Firestone turned out millions of sub-standard and potentially defective tires, and was the initial cause of loss of control many Ford Explorer Firestone tire tread separation rollovers, the blame has shifted toward Ford for a defectively designed and unstable vehicle .
In fact, immediately after the Ford Explorer rollover problem became, Bridgestone -Firestone started the finger pointing at Ford Motor Company.
"Firestone will no longer sell tires to Ford for use on the Explorer. "There is something wrong with the Ford Explorer. The testing and accident data we have done proves it," Lampe said. "You can take our tires off the Ford Explorer and it would continue to roll over." .... Mr. John Lampe - Bridgestone / Firestone CEO
In 2006 in a Ford Explorer rollover trial, evidence was introduced that indicated that the Explorer is unstable not only on Firestone tires but also on tires made by Goodyear, Cooper, Michelin's Uniroyal, BF Goodrich, Kelly Springfield, Continental General and other tire manufacturers. The Explorer rollover trial. Such evidence help to support the argument among many plaintiff lawyers that represent Explorer rollover victims that the Ford Explorer and Ford Explorer Sport Trac are unstable and can flip over or overturn when the driver is faced with an emergency maneuver, hard braking or other evasive driving maneuvers to avoid an animal, a pothole, black ice, road hazard or another vehicle.
The Insurance Institute for Highway Safety (IIHS) issued a safety report in 2005, finding that Ford Explorer (the two-door, two-wheel drive models) made between 1999 - 2002 had the fourth highest rate of driver death of the 47 SUVs that were part of the study and in a study the year before, the Ford Explorer SportTrac received the worst rollover rating of any SUV tested.Ralph Nadar's organization Public Citizen along with many consumer action groups are pushing NHTSA and Congress to recall the Ford Explorer. The problems with the Ford Explorer are just going to continue to increase as the fleet of these SUVs get older. As the suspension, springs, shocks, tires, linkage gets worn out and looser, the handling and stability of the Explorer will be even harder to control in emergency evasive manuevers and other everyday situations in which a tight responsive vehicle is required and expected. Further, Explorer lawsuits have been file in court alleging that the Ford Explorer roof is defective as the design creates a weak roof subject to severe roof crush or roof deformation in a rollover resulting in severe spinal cord injuries,neck fractures, head injuries, resulting in paralysis, brain damage and death.
Willis Law Firm Case - Experience Counts!
For 30+ years Mr. Willis has represented 100's of victims and their families involved in rollovers and other auto and product liability accidents nationwide including the Ford Explorer & Ford Explorer Sport Trac, 2x4, 4X4 Ford Explorers, Ford Expedition, Lincoln Navigator, Ford Ranger, Ford F-150, F-250, F-350 Trucks and Ford Bronco II, tire tread separations, tire failures, explosions, roof crush-roof collapses, seat back failures, seatbelt releases and other serious product liability cases. (Contact Us Now)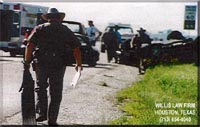 In 1997, Mr. Willis was involved in one of the nation's first Firestone ATX Radial Tread / Belt Separation and Ford Explorer rollover cases which occurred in Texas. A products liability lawsuit was filed in 1998 against Ford and Firestone due to the Ford Explorer going out of control and rolling over after the Explorer's rear Firestone ATX radial tire's tread separated and came off in one piece. (Note Texas State Trooper in picture to left carrying the tread of the Firestone Tire back to the Ford Explorer rollover accident scene.) Our client/ driver lost both legs, her husband, the front passenger was killed and the backseat child had a severe spinal cord injury. This case was settled out of court in a confidential settlment. Click here to read about the Williams vs. Ford Motor Company & Firestone Bridgestone Case.
After a long battle with Ford and Firestone a very significant confidential settlement was reached by all parties. On July 17, 2001, Mr. Willis was recognized as one of a very select group of products liability attorneys in the nation and was awarded the prestigious Steven J. Sharp Public Service Award for his contributions in investigating and gathering evidence pertaining to tire belt separation and vehicle rollovers in Firestone Tire and Ford Explorer Rollover Cases. The efforts by these selected attorneys and others helped lead to the largest recall in U.S. history. This award was presented to Mr. Willis by the President of the Association of Trial Lawyers of America.
WILLIS FIRM COMMITMENT TO CLIENTS
"My firm is committed to representing individuals and families who have been the victims of a wrongful death or serious personal injury. Although monetary compensation cannot heal the emotional and physical scars left as the result of a serious accident, it can help in many cases to relieve much of the economic stress and hardship associated with the injury or loss of a loved one. Many times it is the only means of support and future security for the injured individual and their family. Litigation may not bring back a loved one, or heal a serious injury, but it may serve to help prevent others from having to endure the same loss." David P. Willis - Houston, Texas
FORD EXPLORER ROLLOVER ACCIDENTS - TALK TO A LAWYER NOW

If you have a question regarding serious personal injuries or the wrongful death of a friend or family member involved in a Ford Explorer Rollover of Ford Explorer Sport Trac Rollover, tire tread separation, tire blowout, roof crush roof pillar collapse, vehicle rollover or other serious accident, then call and talk to us now. Please call our office if we can be of assistance to you or your family. Call for a Free & Confidential Consultation.
Toll Free at 1-800-883-9858 or 1-800-468-4878
CLICK HERE >> FOR FREE FORD EXPLORER ROLLOVER LAWSUIT CASE EVALUATION